In recent decades, digital technology has been increasingly present in our lives since childhood.
We use mobile phones, computers and other electronic devices daily, for many hours, especially since 2020, when the covid-19 pandemic began.
Work and studies require spending many more hours in front of screens. In addition, we use social networks and applications, which only 25 years ago would seem like science fiction.
However, most of us lack basic knowledge about the damaging effects of poor posture on health, in the short and long term.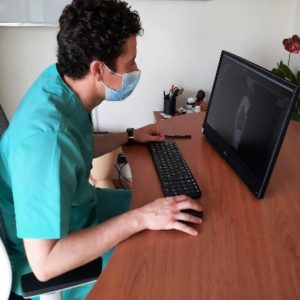 Two studies, published in 2016 and 2018 conducted with young people, aged between 25 and 35, showed that there is a direct correlation between posture and the function of the respiratory and pulmonary muscles. (1,2)
When the head is forward and the neck is flexed, the cranio-vertebral angle decreases and the tone of the cervical muscles increases.
In addition to causing mechanical stress, muscle tension and pain, it significantly decreases vital capacity ( oxygenation capacity) as well as the activity of the breathing muscles.
Another recent observational study, published in January 2022, was carried out with primary school children in Saudi Arabia. (3)
The researchers studied the effects of smartphone screen viewing duration and the body, head, and neck posture in 34 children aged 5 to 12 years. They were assigned to two groups, one of 18 children who used the smartphone screen for more than 4 hours a day and another group of 16 children who used the screen less than 4 hours.
A significant decrease in the craniocervical angle was observed in both groups during and also half an hour after the use of the smartphone.
The head, neck and visual flexion angles of the group of children who used the smartphone more than 4 hours a day were significantly higher than those of the group who used the phone screen less than 4 hours a day.
It is obvious that the more hours they use the phone screen, with their heads forward, the more the children's spine deformes. Not only does their vertebrae lose proper alignment, but their spine remains deformed even after cessation of screen viewing.
The researchers warn that these children will grow up prone to musculoskeletal pathologies.
Below: 21-year-old student with forward head posture and rectification of cervical lordosis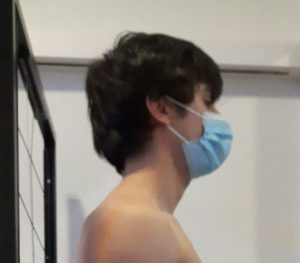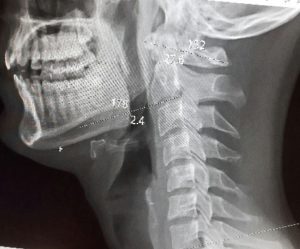 Above: Forward head causes rectification of cervical lordosis – loss of physiological curve –
Rectification of the cervical curve is a spinal biomechanical alteration which refers to  loss of the correct vertebral alignment and intervertebral movement. This accelerates spinal degeneration producing disc disease and osteoarthritis.
In chiropractic terms we speak of 'vertebral subluxations' which reduce the foramen or foramina (spaces through which the spinal nerves pass).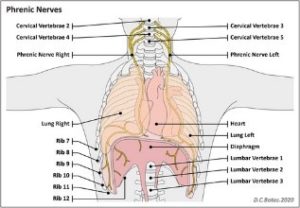 Usually, the most affected are the cervical vertebrae C3- C4- C5- the phrenic nerves pass, directed to the diaphragm,  our main breathing muscle. (1)
Therefore, vertebral subluxations at the cervical level decrease respiratory capacity
In addition to accelerating disc disease and osteoarthritis and reducing long-term breathing capacity, poor posture can lead to heart conditions.
An important study, published by the Archives of Internal Medicine in 2006, followed more than 4,000 men for 20 years. The researchers assessed and monitored each subject's posture and assessed health risks related to poor posture. (4)
The men who experienced the greatest posture deviations and height loss over the 20-year period experienced a 64% increased risk of developing coronary heart disease.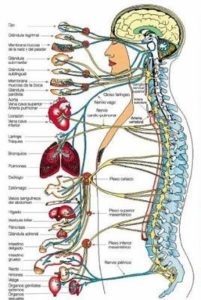 Right: The heart is affected by poor posture due to the relationship between posture, the spine, and the nervous system.
Poor postural habits negatively influence the health of the entire body and can cause damage that goes far beyond aesthetic defects and neck, headache or back pain.
Scientific evidence suggests that improving posture and restoring proper spinal alignment can not only delay disc disease and osteoarthritis, but also help prevent respiratory and cardiac disorders.
The sooner we get a postural review and 'tune-up' or spinal adjustments, the better.
Chiropractic adjustments accompanied by physical therapy and postural correction exercises improve balance, stability and flexibility and help us better adapt to daily stress.
Unfortunately, we still think that: 'if the spine doesn't hurt, it's fine'. The truth is that pain does not serve as a good indicator of whether a child or an adult needs a chiropractic checkup and treatment.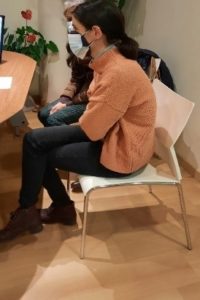 Waiting for the pain to arise usually hinders what would otherwise be a much faster recovery process.
Each chiropractic adjustment positively influences the posture and health of adults and children. By recovering  proper vertebral alignment and  movement it improves the brain's communication with all organs, tissues and cells.
Bibliography and sources
Source of Diaphragm Image: https://standardofcare.com/phrenic-nerve/
Effects of forward head posture on forced vital capacity and respiratory muscles activity https://pubmed.ncbi.nlm.nih.gov/26957743/
Correlation between pulmonary functions and respiratory muscle activity in patients with forward head posture https://www.ncbi.nlm.nih.gov/pmc/articles/PMC5788792/
Effects of smartphone screen viewing duration and body position on head and neck posture in elementary school children
Archives of Internal Medicine Dec. 11-25;166(22):2546-52 "Height loss in older men: associations with total mortality and incidence of cardiovascular disease.." SG. Wannamethee, AG. Shaper, L. Lennon, PH. Whincup